The ultimate guide to organising your veterinary business
We were delighted to see so many veterinary practice leaders, managers and directors join us last Wednesday when our friends at Petsapp hosted a very special webinar with our colleague Peter Weinstein.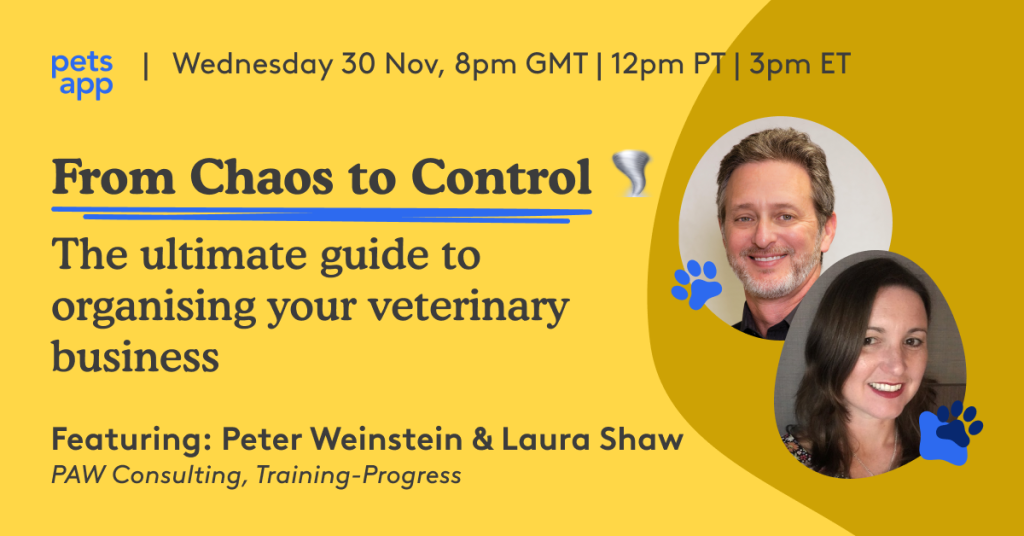 Peter taught us that veterinary businesses exist in a state of chaos. Some aspects are totally out of your control; what time the blocked cat turns up or if a team member goes off sick. However, those things that you can control, you should control.
He looked at simple methods you can use to gain control of your business. These include systems, processes, checklists and training. This approach helps to create a consistent client experience, improve patient outcomes and improve your team member satisfaction. The road from chaos to control is paved with operational systems and efficiency.
Join Peter Weinstein, author of ''The E-Myth Veterinarian' and Laura Shaw from Training-Progress to find out how to bring your practice under control.
Learning objectives from webinar
Learn what areas of your business you should be taking under control
Find out how systems, processes and checklists can create a more effective, efficient and profitable veterinary business
Explore how simple training tools can be harnessed to ensure your team are working consistently to your processes.
Meet the Speakers
Peter Weinstein DVM MBA, PAW Consulting
Dr Peter Weinstein is a husband, father, pet parent, veterinarian and leader. He has been involved with virtually all aspects of veterinary practice from a 15 year old kennel kid to a hospital owner.
Organised veterinary medicine has been a passion as well with various roles and leadership and presidencies of Southern California VMA, California VMA, and Vet Partners. He is a published author, most notably of the EMyth Veterinarian – Why Most Veterinary Practices Don't Work and What to Do About It. Currently, he is teaching business and finance at the Veterinary College of Western University of Health Sciences. He likes to think of himself as a free thinking change agent and disruptor. He has a daughter in veterinary school, so is working for an even better veterinary profession in the future.
Laura Shaw BVSc MRCVS, Training-Progress
After graduating from Bristol Vet School in 2000, Laura worked mainly in small animal practice in the UK and New Zealand. A wealth of experience in a variety of practices and a nurse management role, inspired many of the solutions which she contributed to Training-Progress when she joined in 2016 as development consultant. Laura regularly volunteers with StreetVet which she finds hugely rewarding. Outside of veterinary, Laura loves to force her two daughters to join her on dog walks with her Irish terrier, Hobb. She is also an aspiring painter and print maker.